Written by Soudip
April 24th 2014
Other Places
You Are Here
Home >
India
> Shaniwar Wada, Pune Historical Facts and Pictures
Gwalior Fort Historical Facts and Pictures
Gwalior Fort located near Gwalior in the Indian state of Madhya Pradesh is an important historical monument and a landmark of Tomar architecture. The eighth century hill fort consists of two main palaces along with three temples, four more palaces and a defensive structure, . The first palace, Man Mandir, is named after King Man Singh Tomar who built the Gwalior Fort, while the second palace Gurjari Mahal was built for Man Singh's wife Queen Mrignayani.
Since its construction in the 15th century, the Gwalior Fort has stood witness to the rise and fall of many dynasties and royal families as it has been controlled by several rulers at different times. Its ownership changed hands from the Tomars to the Mughal rulers to the Marathas, then the British and finally to the Scindias.
Gwalior Fort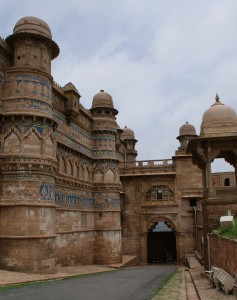 Gwalior Fort Inside
Gwalior Fort at Night
The fort combines many different architectural styles including the Dravidian style along with the Hindu, Buddhist and Jain architecture. Apart from the Man Mandir and Gurjari Mahal, constructions in the Gwalior Fort notable for their sculpted work and architecture include Teli ka Mandir, The Elephant Gate (Hathi Pol gate), the Saas-bahu temple, Karn Mahal and Vikram Mahal.
Written by Soudip
April 24th 2014
Other Places